Gazebo Bird Feeders

Add a touch of style with gazebo bird feeders. Gazebo feeders come in a variety of styles and are not expensive.
Most backyard bird watchers have at least one of these feeders in their garden.


Basically, a gazebo feeder is a bird feeder shaped like a gazebo. It is a combination of a hopper feeder and a platform bird feeder. The platform forms the base of a central seed container and the seed container can be filled through a hole in the roof.



Gazebo Bird Feeders Tips
You can be use almost any type of wild bird seed including black-oil sunflower seed, safflower seed and most wild bird seed blends.


I recommend filling it outside where you are going to hang it, because it can be to messy fill. And the bigger wild birds will enjoy the spilled seed.


Make sure the twine or other hanger material is strong enough to hold the weight of the seed.


Clean your empty gazebo feeder at least once a week to prevent seed from going sour or mouldy.


Monitor how quickly the birds empty this feeder. Then fill accordingly.
My Best Gazebo Bird Feeders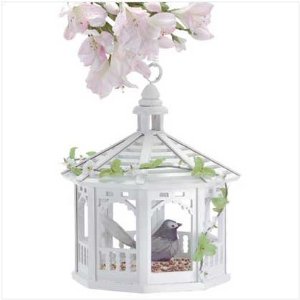 I love this gazebo birdfeeder!
Made from wood and plastic - 8 1/2" diameter x 10 1/2" high.
It is tastefully trimmed with gingerbread mouldings and greenery and is very attractive.
Complements any back porch.
Cardinals and many other kind of birds will enjoy eating in it.


Click here to order your WHITE GAZEBO BIRD FEEDER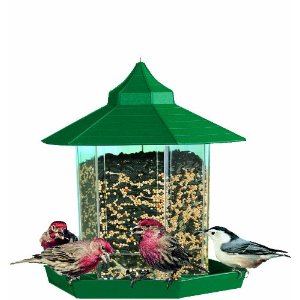 The birds love this feeder... Even the cardinals.
The price is a steal, makes a great starter bird feeder for new wild bird watchers.
The construction is sturdy.
Not really secure enough to hold the weight of the seed. But, add some twine and loop over a branch and it should be fine.
The construction is sturdy, with a simple yet attractive appearance, and the birds line up to use it.
Try mixed seeds for a variety of backyard bird visitors
I highly recommend this feeder!


Click here to order your Perky-Pet Gazebo Wild Bird Feeder
---

More Gazebo Style Bird Feeders
Helping You Make a Wild Bird Heaven in Your Own Backyard
Go from Gazebo Bird Feeders to Best Backyard Bird Feeders Home