Window Bird Feeders
Window bird feeders and more unique bird feeders to make your wild bird watching fun in any weather.
Enjoy the thrill of seeing garden birds and humming birds right up close.
Window sill bird feeders work well at any time of year but you will enjoy this feeder particularly during bad weather.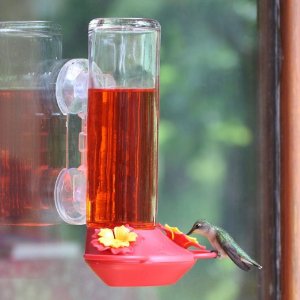 Window Bird Feeder Tips
Make extra sure that the window, and the sucker, are clean before attaching. Any grease or dirt will cause the feeder to fall off the window.
When using a window feeder that fits into the window, use a window away from the weather side of the house. You cannot completely seal the gap and rainwater may leak in.
Choose a good quality feeder with strong suction cups.
Keep your feeder clean to avoid bacteria.
My Best Window Bird Feeders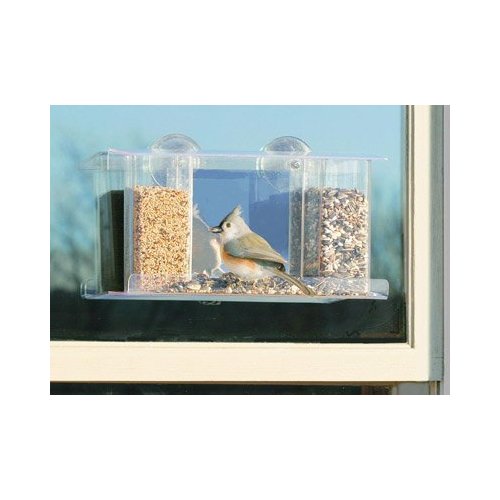 Brings the birds up close. You can sit in your living room or stand in your kitchen and watch birds feed from just inches away.
Two heavy duty suction cups secure the feeder to any window.
Holds 1-pound of seed and a one way mirror film has birds prancing and preening.
Easy to clean and fill and the clear plastic keeps seed levels visible at all times.
Use multiple seed types to attract a variety of species.
The cups stick well and the feeder is easy to fill. The birds come to it readily and regularly.
I have seen beautiful grosbeaks, woodpeckers, chickadees, sparrows, finches and jays.
Great for birdwatching up close.


Click here to order your
Duncraft Songbird One Way Mirror Window Bird Feeder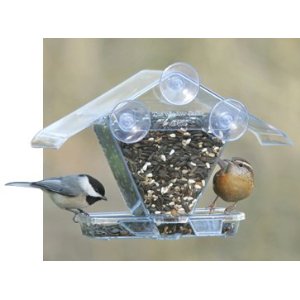 I have tried many different styles of window feeders and this one is the best.
This attractive feeder is made of high impact material and the heavy-duty suction cups stick securely to the window.
The seed trays easily lift out of the base for filling and cleaning - without detaching the feeder from the window.
Seed reservoir slides out for easy filling and cleaning.
The feeder's roof protects the seed from getting too wet in rain or snow.
It holds quite a bit of seed so you don't have to refill so often.
Chickadees, titmouse, and finches love this feeder
Very happy with this purchase!


Click here to order your
Window Cafe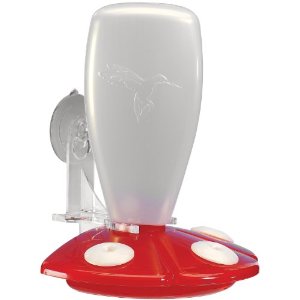 I have had much success with this feeder.
It has three feeding stations with a 12-Ounce nectar capacity.
Nice to be able to see clearly when the food level is getting low.
Easy to fill and clean and has a no drip design.
Took the hummingbirds only 2-3 days to find it.
I've used them for years and will buy them as gifts.


Click here to order your
Cherry Valley Feeder Window Mounting Hummingbird Feeder
More Window Bird Feeders
Go from Window Bird Feeders to Best Backyard Bird Feeders Home